"Do you know what we're doing today?"
"Do you know where we're going today?"
"Do you know what today is?"
I was standing in the dining room, looking out the back door rehearsing which question to ask Ayla when she wakes up. I thought asking just the right question would spark excitement.
Alaina and I were getting ready, coffee was brewing, and Ayla was starting to wake-up. I was a little anxious (okay, a lot) but the obsessive amount of planning and preparation slowed Anxiety's advances. Alaina was as cool as a cucumber, as usual, but she was ready to get going and to be back in New England.
More than five years have passed since Alaina and I last visited New England. In the years before Ayla was born we would go to Massachusetts almost every summer. We'd been making that trip since the year Alaina and I started dating. We've talked about going out there with Ayla for the past couple of summers, but for one reason —many reasons— or another it just didn't work out.
Today, that will change.
Alaina disconnected Ayla from her ventilator, turned off the pulse-oximeter, and carried Ayla into the hallway. Ayla had known that our trip was coming up but she didn't really know when, and we tried to keep her excitement at bay until we knew for sure that we'd really be able to go. If Ayla had gotten sick at any time in the 2 weeks prior to the trip we might not have gone at all. As an acceptable fallback we were planning to send Alaina to attend Elizabeth and Andrew's wedding, but we worked hard to make sure we could all go.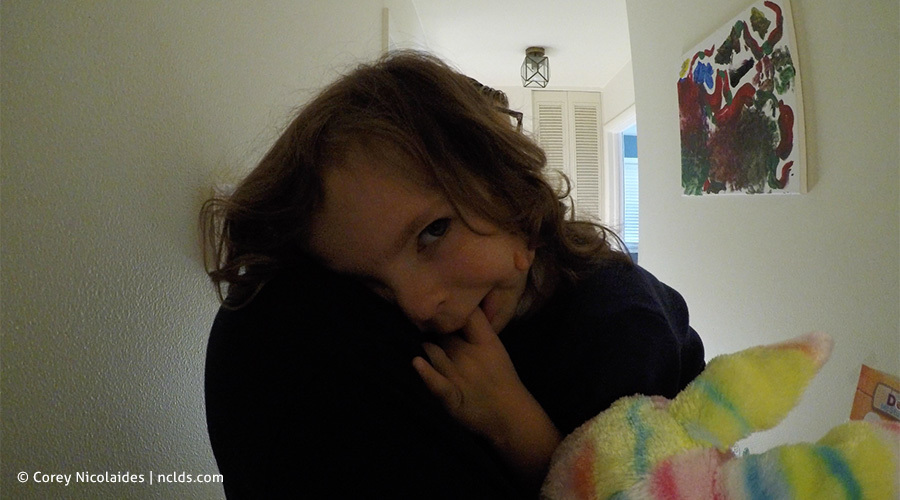 Me: "Do you know what we're doing today?"
Ayla: "What?"
Me: "We're going somewhere."
Ayla: "Nana and Gumpy's house!"
Me: "Yeah! We're going on our summer trip."
Ayla: "Oh, but Dad, Lollipop (stuffed rainbow bunny) has a bad cold. She can't go."
We laughed and said our good mornings, and then Alaina and Ayla finished getting ready while I made sure everything was in the car and packed in just the right places.
I wanted to make this trip, the whole trip, enjoyable for Ayla and Alaina. It's Ayla's first real summer vacation, and she's old enough that some of this could stick with her forever. Alaina hasn't been back East in years, and she really deserves to have a great vacation back "home". I didn't want to drive for two full days without making a couple of interesting stops along the way. I really hoped it would be a great trip, the driving parts included, for all three of us.
It wasn't long before we made our first pit stop. The car was packed in such a way that we could pull over, take a couple of plastic tubs out of the back, and set Ayla's portable potty in the back of the CRV. This would allow us to avoid public restrooms and give us the flexibility of pulling over on any exit or parking lot. Having this in the back of the car was an A+ planning decision.
Our first real stop was at the Fort Wayne Children's Zoo in Fort Wayne, Indiana. This zoo is amazing! I'd looked it up prior to the trip and it looked like a great stop, but it was a total surprise when we got there. It's an enormous zoo. We thought a couple of hours would give us enough time to see the majority of it, but we should have allocated a full day for it.
It's really a wonderful zoo and definitely worth checking out if you're in the area or passing through. Here's the link if you're curious: kidszoo.org
It was time to get back on the road so we could try to make it to our hotel at a reasonable time. Now about hotels…
Going out (anywhere) is pretty stressful for us. It's getting better as Ayla improves at keeping her hands off of her face and trach, but it's still worrisome to see Ayla touch the handrail of an escalator and then rub her eye. This trip would really test our —especially my— tolerance of being in "dirty" places. Here is a sample from the list of places I consider "dirty".
Level 1 - Dirty
Restaurants
Doctors Offices
Public Transportation
Level 2 - Ebola Maybe
Public Restrooms
Garbage Dumps
The State Fair
Level 3 - Definitely Radioactive
Chuck -E- Cheese
Nuclear Waste Storage Facilities
Hotels
This was Ayla's first time staying in a hotel. I'd been stressed for weeks about how to handle the hotel rooms. Everything in a hotel room is contaminated, right? Don't try to convince me that it isn't, I can't be brainwashed like you are.

Alaina and I decided that when we arrived in the hotel room we would sit Ayla on the bed while we quickly cleaned the room with Clorox wipes. Every major surface, the remote, lamp, light switch, alarm clock, toilet, door knobs, faucets, every exposed surface that could be cleaned, would be cleaned. We made a pretty good hotel room disinfection team. Ayla was as patient as a five year old, so not very.

We also needed to have Ayla's medical equipment with us and setup for her to sleep. This includes her suction machine, ventilator, water heater, pulse oximeter, and all of the wires, tubes, pieces and parts that come along with. We cleared the desk, moved it between the beds, and assembled Ayla's stuff. This worked out great and I'm really glad each of the hotel rooms had a desk that could be moved.
It was later than I'd hoped; I really miscalculated the time it would take to clean the room, unpack the car, move everything into the hotel room, and then assemble all of Ayla's medical stuff.

It was around 11pm and we needed to be up and going and on the road by about 8am. Fortunately, the long drive and the fun at the zoo seemed to wear Ayla out enough that she got to sleep pretty quickly. We really expected her to lay there in the dark talking and singing and asking us questions, because that's what she's done in the past in hospital rooms, but she was out, and so were we.
---
Next: Niagara Falls