Ayla and I were playing hide and seek, which she's terrible at because she giggles and calls out when she should be hiding, but she's so excited to be found that she can't contain herself. She also tries to peek while she's counting, so head's-up if you're playing against her… it'll be fun, but she'll cheat!
Today Ayla and Lilly would finally get to play together, and Nana had purchased tickets for all of us to go to Legoland! Lilly hadn't really shown any more symptoms of Hand Foot and Mouth, and we were close enough to the wedding that we were prepared to let the two of them play.
Alaina received a call from her mom. She told Alaina that Lindsay had decided to take Lilly to prompt care because Lilly was complaining about her throat from time to time, and Lindsay was just generally concerned about giving Ayla whatever Lilly might have. Alaina looked at me with concern, but we thought, "It's fine. Lindsay is just being careful and sensitive to our concerns."

We arrived at Nana and Gumpy's but Nana, Lilly, and Lindsay weren't back from prompt care yet so we just waited in the car.

When they arrived, Lindsay threw her car door open and ran toward us with her hands out shouting "Stay in your car! Don't get out. Lilly has Strep!"
"Noooo." Alaina said as she slumped back into the seat.

We just froze there while Lindsay and Lilly went inside. We definitely couldn't go inside and see them now, and Lilly certainly wouldn't be going with us to Legoland. Ayla's had Strep before and she did okay with it, but Alaina got it at the same time and was really miserable. Alaina absolutely did not want to risk getting Strep before the wedding. The good news though, was that Lily didn't have Hand Foot and Mouth, and the doctor was able to start her on an antibiotic for Strep, which in approximately 24 hours would clear Lilly to play with Ayla. Whew! At least the girls would get some time to play together.
Nana came over to the car and said, "Well… we'll just have to go without them I guess." And so we did, we left for Legoland.

Poor Lily, not only did she have to deal with Strep, she also missed out on going to Legoland with Nana, and she still couldn't play with Ayla.
Legoland
A couple of months before our trip, Alaina ended a phone call with Nana and turned to me and said, "My Mom got Ayla and Lilly tickets to Legoland. That should be fun!"
She's right, that should be fun. I remember doing a half smile and my eyes opened widely and started to dry like they were fixed in cement. A cold rush of anxiety flooded my stomach. I started imagining the extremely rare flesh-eating bacteria lurking between the Lego blocks, and how the little creatures would rejoice when they spotted Ayla's trach and they'd rappel from every little tower and tunnel, doing anything necessary to get onto her hands. I imagined the wise old bacterium lingering in a dark corner of Legoland, telling tales of "fragile humans" but never actually encountering one. He's dedicated his life to the search, but demoralized and ready to quit. The old bacterium would have one optimistic but rather dense friend with binoculars dangling from his neck, checking regularly for a glimpse of the mythical creature. Then, suddenly his friend would ring out "I've got one!" They'd assemble a militia and race across the room chasing Ayla for a chance to leap onto her like microscopic fleas and they'd climb and crawl until they reached her trach.
"Maybe they clean the blocks regularly?" my mind tried to recover from Anxiety's jab.

"Maybe the whole room gets power washed. Maybe they take each of the tiny little blocks apart and wash them in some type of super heated industrial dish washer… Probably not." I thought.

"Definitely not." Anxiety insisted.

Anxiety started singing about hotel rooms and public transportation and Ayla getting lost and child abductions and car accidents and terrorism and it was playing on a loop in my head and it sounded like that eerie song from the boat scene in Willy Wonka and the Chocolate Factory… "The danger must be growing!"
Me: "It's fine. You have to let her do this. Do the best you can with her hands and germs. Let her have fun. You have to let her have fun."

Anxiety: "Yeah, don't let Ayla see just how anxious you are. You wouldn't want that kind of thing to affect her long-term, would you? I mean, you don't want her to be anxious like you, right? Are you really going to let me ruin this trip for her? You should probably be anxious about your anxiety. Hey that's me! Notice me!"
We arrived at Legoland a little early, so we walked over to Which-Wich to eat some lunch. We sat outside under an umbrella and ate our sandwiches while Ayla ate her pretzel sticks.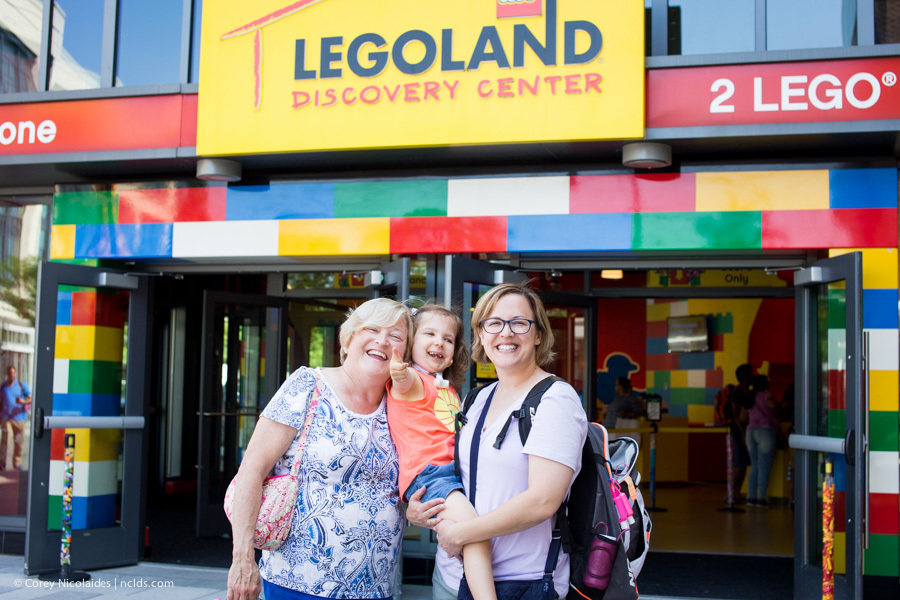 Legoland Discover Center is a lot of fun (despite the unknown level of cleanliness). It's built to encourage a progressive experience as you move from room to room doing interactive tasks with other visitors. You get to go on a little ride where to shoot lasers at Lego villains. We rode it twice, partly because Ayla really enjoyed it, but mostly because Nana insisted that she had a broken laser gun and that's why her score was so low… mmm hmm. (:

There's an amazing display of elaborate Lego builds in a museum-like gallery area. There are buttons that make buildings light-up and buttons that activate special animatronics that put on a little show. For adults, this is easily the most interesting area. The detail in these builds is really incredible.

Then Legoland opens up into a huge play area. There's another ride, which Alaina and Nana rode, but Ayla didn't want to go on.

There are slides and tunnels, and oversized games. Lego rooms and Lego walls.
There are workstations where you get to create vehicles and then try racing them down ramps. And shaker tables that test the integrity of your Lego towers.
Ayla raced around from place to place trying different Lego based tasks, and then she'd run back to the slide, and then back to Lego, back to the slide. She was dragging Nana from one area to the next and back again. It was great to see them playing together and making memories. Ayla and Nana share in their contagious laughter and bouncy energy and optimistic attitudes. Other than occasional family get-togethers and FaceTime on the iPad, Nana and Ayla don't get to spend much time together, so this was good for both of them.

Ayla really enjoyed it all. It was very open and engaging, and because it wasn't too busy, Ayla had a little more freedom to explore and try new things. She even watched the 10 minute Lego 4D "movie" with us (the 4th dimension is rain and bubbles in the room). Of course we knew that if she got wet she'd lose her mind, so we sat her in the top corner of the theater where the seats where dry. The movie stood out as the most lackluster part of Legoland, and worth skipping if we go back.
After a full mid-day of fun with Nana, we headed back to our place in Ipswich. We picked-up some seafood from one of the local establishments, and just took it easy for a bit.

Molly (owner of our AirBnb) has two daughters, a little older than Ayla, and they have a swing set in the back yard. Molly had given us permission to play out there, and since we had some time and the weather was great, we went outside to play for a few minutes before falling into bed.
Next: Wedding Day