UPDATED for spelling. I promise to run spell check before posting the next one. Sorry about that!
Welcome to Children's Hospital
The drive from our house in Springfield, IL to Children's Hospital in St.Louis, MO takes about 2 hours. Last Wednesday morning we took our first trip to Children's, stretching the drive time to 2.5 hours after a lunch stop at the Waffle House (Sorry, Jenny Houlton) in Collinsville. Pro Tip: Waffle House – as the name suggests – specializes in Waffles, don't get a cheeseburger.
Arriving at Children's Hospital, I felt the way I imagine Kevin McAllister felt when he arrived at Duncan's Toy Chest in Home Alone 2.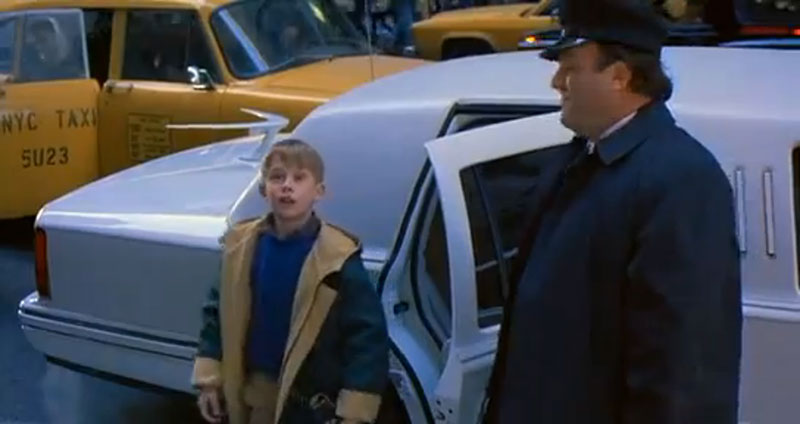 Except, instead of being in awe of the gadgets and toys, I was in awe of the effort Children's has made to create a friendly and welcoming environment for children and parents. Every detail has been thoughtfully crafted to welcome you into a place for hope, healing, and love.
The multi-colored, metal, animal sculptures in front of the building.
The playfully written clearance height markers in the parking garage.
The cute little kid voice that says "Going Up" or "Going Down" in the elevator.
The electric train set suspended above the glass encased bridge into Children's.
The big hot-air balloon sculpture inside the lobby.
The colors and textures of the building.
All of these things are accompanied by smiling employees who are waiting at every turn to make sure you have what you need and know where you're going.
We didn't need any direction because we had a nurse/host, Christine, who met us in the lobby and would accompany us for the afternoon. Christine carried our paperwork, called ahead before each of our appointments, led us throughout the two facilities, and made sure we were completely taken care of. Christine, if you read this, thank you! You've been SO helpful.
Appointment #1
Christine led us to our first appointment. We met with a Pediatric Surgeon and with the Instructor of Pediatrics. They were both super nice. They've clearly been through this type of thing many, many times.
The Instructor of Pediatrics, Dr. Anadkat, walked us through the birthing process at Barnes, what to expect in the moments immediately after delivery, and how to transition in the days after. She told us that in the first 30 seconds Ayla will be inspected for stability. With her small chin/jaw (Micrognathia), she may need help breathing. If so, an ENT Doc will step in and place a breathing tube and vent. If she is breathing ok on her own, Dr. Anadkat's team will give Ayla a complete and thorough inspection. If Ayla is stable at that point, we may be able to see her for a moment. The Transport Team will then move Ayla from Barnes to Children's. The two hospitals are connected. I can accompany the Transport Team to Children's as they move Ayla, but they suggest that I go back to Alaina at that point because Ayla will be in surgery for a couple of hours.
The Surgeon, Dr. Bernabe, explained in great detail exactly what the process would look like. She took out a single sheet of paper and explained the 5 possible types of Trachea Esophageal Fistula (TEF).
The first type (second from left) is the most common, seen in 85% of TEF cases, it's the "best" version to have. The other 4 are less common, and slightly more difficult to repair. The surgery will be done through Ayla's side. The surgeons will use general anaesthesia so she can sleep through the surgery. They will repair the connection(s) between Ayla's esophagus and stomach by carefully stretching them together. There is a chance, depending on the type of TEF, that Ayla will have to undergo additional surgeries. Ayla will then have a drainage tube connected through the side of her chest to prevent infection around the TEF repair, and Ayla will be fed through a tube. Her stomach is very small right now – because it hasn't been used much – so the doctors will place a tube through her nose, down to her stomach, after the surgery. The tube will provide a small but constant supply of food while she recovers. Dr. Bernabe and Dr. Anadkat were very happy to hear Alaina's enthusiasm for breastfeeding. We know that Ayla won't be able to latch and feed, at least initially, but Alaina will pump and store milk that Children's will use to feed Ayla. Children's offers storage and labeling so that we can bring milk to them and they can use is when they're ready.

We asked a truckload of questions, I can't possibly fit them all here. One question we asked was "How long will the whole process take?" The Dr.'s estimate that start to finish we will be at Children's for around one month.
Dr. Anadkat said something like "We have people on staff that will help you find housing… " I trailed off in thought before she could even finish her sentence. Until that moment, I hadn't considered that we would actually LEAVE Ayla at the hospital. They want us to leave, to rest, to decompress and relax. I can't imagine what that first time leaving is going to feel like. No-one leaves their newborn baby. You have a baby and you're with that baby for weeks and weeks before you just up and leave. That's going to be really hard and I'm dreading it. I'm thankful that she will be in such a terrific place with incredible people caring for her, but still… she'll be, sort of alone.
Appointment #2
We went a little long on time with our questions, so Christine led us quickly down the hall and through the connecting bridge/tunnel to Barnes Hospital. Appointment #2 would be another ultrasound and fluid measurement. We would also meet the O.B. we'd be seeing on our trips to Barnes. The Ultrasound Tech was funny. She was really sweet and just loved looking at and talking to Ayla. She seemed genuinely excited to see Ayla and printed 30 - 40 pictures of her. Alaina's back was hurting, but she powered through and even let a student (I forget her name) take some time to scan Ayla after the Ultrasound Tech.
Alaina's fluid measured pretty high this time. They measured twice and returned a 31, and a 38. They wrote 35 on her chart. We've been told that 40 would be "the danger zone" of fluid levels, so Alaina and I were both very concerned when they got a 38. We asked the new OB how important the actual number is. He explained that Alaina is doing great, and he is more concerned with how Alaina feels and how her body is coping with the extra fluid, than he is with the numbers they get. Alaina has been feeling fine, except for an achy back and clogged ear.
The O.B. talked with us for a few minutes, gave us neutral/good feedback, and sent us back to Christine.
Appointment #3
Now we would meet with Maternal Fetal Medicine at Barnes/Washington University. Basically in the same place as appointment 2. Alaina weighed-in and had a blood pressure check. Everything normal/fine.
A few minutes later, Dr. Shanks came in and introduced himself. He explained that we probably wouldn't need to see the MFM dept up here at St.Johns/SIU School of Medicine anymore. We would instead be making trips to STL to see their MFM department. Dr. Shanks told us that it will be him or someone from his team that delivers Ayla. So, add him to the team of people we'll have in the delivery room. He explained that they will induce Alaina in the first week of May, the exact date is TBD. As long as things still look good and Ayla isn't breached, Alaina should be able to give birth the traditional way, a c-section isn't necessary. He talked to us for a while and got "caught up" on everything. He was really nice, very reassuring, and reiterated what the O.B. said about Alaina's high fluid level.
We finished up with MFM, and Christine walked us back to the very spot she had met us four and a half hours earlier. Christine made sure we were in good spirits, confirmed the details of our next appointment, and sent us on our way. She'll meet us again, right there, when we return.
Some Ayla Stats (as of March 6th, 2013)
Gestational Age: 30 Weeks
Measurements: Average
Weight: 3 lbs, 2 oz. (Average)
Alaina's AFI: 35 (High, but doing ok.)
Due Date: First week of May
We are
We're feeling really positive. Our new staff in STL has raised our confidence and taken so much of the fear from our minds. They are incredibly organized and well prepared for Ayla. They have a plan, which means we have a plan. The way everyone used Ayla's name in conversation really added her to THIS. It's been easy to forget —when you're dwelling on the fear and anxiety in this process— what a miracle we're receiving. With four simple letters they put her right back in the equation, reminding us that when this is all done, we'll have a beautiful little miracle to bring home.
Again, the continuous flow of love and thoughtfulness that we're experiencing is tremendous. Thank you to everyone who is praying for Ayla, and for us. It means so much just knowing that you're there.
Lodgistics
Yes, I misspelled that intentionally. Among the many logistical things we have to prepare for, we need a place to stay in the STL area.
We've been contacted by a few friends that live near St.Louis, but we haven't made any definite plans just yet. We're grateful to those who have offered already, but I want to assemble a list of possible locations to try and find out what would be best for everyone, especially for those making the offer.
We're mostly just looking for a place to stay for one week, to one month. We may move around from friend to friend if that works best for everyone's schedule. If you know of anyone in the STL area that might have extra room, internet access, and running water… we're interested.
Prayer
We love that you're praying for us and with us. Any prayer will do, but if you'd like some ideas, here you go.
Pray for Ayla's stability. Pray that she can breath on her own when she gets here.
Pray for Ayla's TEF. Pray that she has the common one, the "best" version.
Pray that Ayla tolerates the surgery with ease.
Pray for Alaina, for her strength and for rest as we get closer to May. Pray that Alaina's fluid remains at acceptable levels.
Pray that I can get us prepared and can provide great support for Alaina.
And you know what? Pray for all of the OTHER Mom's, Dad's, and children going through difficult medical stuff. If you haven't been through this kind of thing, it's tougher than you think.
Last Thing
Ayla say's hi! Well, she might be picking her nose, but she said hi. That hand is the one missing a digit (thumb).
I'll update you again soon.
- Corey, Alaina and Ayla